thinking of you 'Lil...
hope you have a beautiful birthing memory...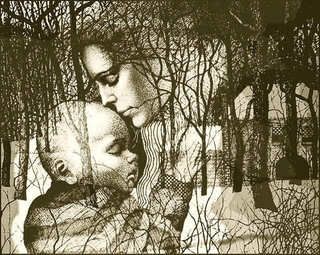 I've had a nice relaxing weekend... that seems to be the best kind these days!!! It was me mum's 80th birthday today... I spent some time with her yesterday - went for a walk along The Esplanade Market... haven't done that for ages - forgot how pleasant it can be... except that me mum got too tired after a while and had to go home again (luckily she lives right across the road)... this is her with the wee Louie...

she gets worn out easily these days - kidney function is deteriorating - but she's still as active as she can be... couldn't go out today for her birthday - was already going out for lunch, and she had a public housing and tenants meeting she had to be at this arvo, then afternoon tea.. I spoke to her just before and she was fucked!!! and lunch again tomorrow... she doesn't know how she'll cope with that one!!!
I had a great day today rearranging the furniture - I've no doubt totally confused my poor old girl Allie... just couldn't help myself (oooh, sounds a bit compulsive obsessive!!!) -
had
to change the loungeroom around... needed a change - well, really need a holiday - and they say a change is as good as one... so the furniture is moved around a bit but the girl will get used to it soon... Brann's home most of this week so can keep an eye on her... and this is her, snoozin' ('we' do a lot of that these days!!!)
I've been reading an interesting book...
The Suspicions of Mr Whicher or The Murder at Road Hill House
by
Kate Summerscale
.
It's the true story of a child's murder, commited in 1860... it was a time when "a detective was a recent invention. The first fictional sleuth appeared in 1841 and the first real detectives in the English-speaking world were appointed the next year".
The style of writing has taken a while to get used to, but I am enjoying it... it's intriguing - there's a mystery involved... haven't finished it yet though - but the author has written another book I might have to check out...
The Queen of Whale Cay
:
The Eccentric Story of
'Joe' Carstairs
, Fastest Woman on Water
- born Marion Barbara Carstairs, known as Betty and nicknamed Joe - now she sounds like one intriguing woman...
and now I've 'posted', I'm going to enjoy some lovely home grown produce...
and some yummy chocolate cheesecake from acland street... oooh, can't stop thinking about munchies!!