it's a pretty town is
malmsbury
... you may have passed through it on your way to bendigo or one of the other close by towns - daylesford or castlemaine perhaps - or you may even have missed it by blinking - or you may never even have heard of it - since the bypass was opened it's mostly 'local traffic' that passes through these days...
i visited overnight a fortnight ago and stayed at irene's - i figured i could trust darrell to watch the gang while i spent some time with my wee loudle boy... he does treat her well - he's actually awed at her ability to still get around being blind and deaf - she amazes him and he's very good to both her and the shadow lad...
it was a lovely (albeit very short) break from my day to day routine (especially the cleaning up wee part)... lovely once i arrived anyway - the trains only ran to sunbury this particular day and then we had to road coach it from there... now that takes a lot longer... usually a very commutable hour and a quarter trip became a two and a half hour ordeal - i really don't like coaches - a tad claustrophobic... so it was really good to arrive at the station and get off that bus!!!!
irene and i decided to go out for dinner, so we went to 'the stables' - it's only open friday and saturday evenings and they make yummy wood fired pizza - lots of vegie options... as the name suggests, it's an old renovated stables with a lovely rustic interior and a really comfortable and relaxed atmosphere - there's a welcoming treed courtyard with tables - unfortunately it was raining the evening we were there so outside wasn't the place to be... it was a very enjoyable evening though... we went home sated and just veg'd out with the poodles...



it's lovely sitting out on irene's back porch... it overlooks "
the mill
" - built in 1861 as a malt mill - now classified by the national trust, it houses a restaurant, gallery, studio and function centre - actually irene's getting ready to sell the back 1/4 acre of her property which faces on to this lovely landmark - a buyer's dream hopefully - it would be grouse to know that your view will always be beautiful because it can't be developed - i'd love to buy it but alas i have no assets or money - relationship crap years ago (yeah, what else - same old, same old!!!) left me with no alternative to bankruptcy - i lost everything that meant anything to me - my home, my dream (and soooo much more that i'm still unable to talk about without tears, regrets and depression so i won't go there)... you would have thought i'd have learnt then, but wisdom's a long time coming - anyway what's done is done so there's no point looking backwards...



... suffice to say an 'older persons retreat' will do me nicely in her lovely treed yard - there's a pretty spot earmarked for my cottage... once the land sells that is - hopefully it will get snapped up quickly... it has so much going for it... it's 5 minutes walk to the malmsbury station and just up the hill from the bakery, the general store, a winery, surrounded by amazing bluestone buildings... very well located actually... but there's more - arts and crafts stores, a hotel, antiques... fingers crossed...
ooh, did i mention that positioned between the shops and irene's place are the magnificent botanical gardens... i came across a blog with some grouse photos of the gardens
right here
.
all this within walking distance - and, if you know them, Mike & Linda are within 'cooee' as well - their 'country residence' is just down the road on the other side of the hill - just past the shops...
do you know anyone interested in a beautiful 1/4 acre block with a wonderful outlook??






but my poor louie's having a bit of a hard time at the moment... irene's been having a hard time with all the gang... three out of the four of them have had bad
'hot spots'
(lucky boy managed to miss out - lucky in name, lucky in life!!) - they all got clipped by a 'new' person who did a wonderful clipping job - hopefully it's just coincidental - after all it's a bad flea time at the moment - allie and shadow haven't been immune here in the city either!! - but my poor wee loudie-dude has suffered the most - he already has sensitive skin and he's a real scratcher so it's taking longer for his to heal... and he is a sook - a wee neurotic boy really (but he's had a hard life - and he's had to adapt to a lot of change - he loved having me to himself the night i stayed - he didn't have to compete to share the human with 3 other dogs - mind you, the others enjoyed one less to share irene and their bed with too!!)... and it's not fair on irene either - when you've already got 3 dogs another one makes it so much harder - so many to deal with when it's bath time, flea-ing time, dinner time, medicine time, etc. etc. - even harder considering chronic ill health is part of her life, and she works, and has to cope with a 16 yo moody male teenager - the grandson!!!!
here's some photos of my cute wee fella i took a few weeks ago...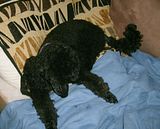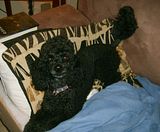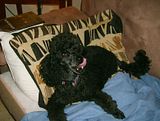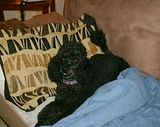 i'm going to do some reading and domestic stuff now... but i've been listening to alice russell lately so i'll leave you with some of her music... enjoy...