It's sad that there's yet another 'ribbon' day coming up - WHITE RIBBON DAY - November 25th (Tuesday) - International Day for the Elimination of VIOLENCE AGAINST WOMEN...
"White Ribbon Day - History


White Ribbon Day was created by a handful of Canadian men in 1991 on the second anniversary of one man's massacre of fourteen women in Montreal. They began the White Ribbon Campaign to urge men to speak out against violence against women...." to
read more
go to the
White Ribbon Foundation of Australia
.
shameful isn't it that violence is still so brutally perpetrated against women in all countries under all political and religious systems...



and coming up to that major commercial time of year the Age had a very timely article on it's front page...
"Backyard puppy factories just waiting for the next bitch on heat
Carmel Egan
November 23, 2008
Belinda Russo, an animal management officer at Lort Smith Animal Hospital, holds three puppies she says were dumped by backyard breeders.
SHE is a dog with no name who lives in a bric-a-brac jumble by her master's back door. Her owner appears surprised when asked her name and seems to pluck "Suzy" from the air. A small, grey-and-white crossbreed with matted hair, she doesn't respond to Suzy. She snarls and squabbles with her litter of hungry pups over a bowl of dog pellets..."
read more here.
I wrote about this cruelty 12 months ago now - nothing ever changes - my babe Allie was a brood bitch in a puppy factory and almost died at the age of 4 - you can read her story by clicking her picture and read more about puppy factories
here
..
and so many people think of animals as the perfect xmas gift without thinking beyond the gift giving time... let's not forget - COMPANION ANIMALS ARE FOR LIFE, NOT JUST FOR XMAS!!!!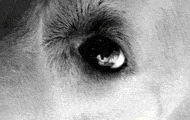 and on that note - it's just a quick post today - it's only a short weekend for me as I'm working tomorrow (normally my day off!!! - but I do get a day off in lieu) - I'm going to an all day seminar (so at least I'm not dealing with the public!!) at the museum called
Collections and the Web
with a big emphasis on Web 2.0 stuff... I'm really looking forward to it - but now I'm going to check the yummy Greek style baked vegies in tomato sauce I've got bubbling away in the oven and smelling wonderful... so it's ciao for now.