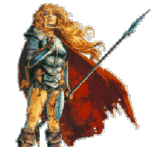 It's definitely not the end while I'm still finding new toys to play with!!! Found a great little application that allows you to edit animated graphics without losing the animation… Gifworks (my sojourner was a warrior with a body at her feet before I found an animated image editor - she just doesn't have any feet now!!!) - it's basic, but it's fine if you just want to crop something, add text (limited to a certain amount of space though – depends on the font and the size) – but hey, it's available, it's online, and it's free.

This programme has been a great learning curve – I have had a ball creating the blog. I am hoping to keep it up – to 'own' it – that's the plan anyway (but the downside to that is I'll need to upgrade my computer to deal with all of these graphics and programmes now - the price of 'progress' hey!!!!)

There have been a few 'glitches' along the way – I don't know about any of the other participating libraries but my colleagues and I have had a lot of problems due to our council's firewall etc. We had to laugh when one of my YouTube clips was blocked under the "satanic sites rule"!!! If we're to be part of the Web 2.0 culture, we need access to the resources!!

Another problem has been the 'instability' of some of the applications… some things worked immediately, some worked some of the time, some didn't work at all - even formatting within Blogger was problematic at times… a pain when you've got limited time to explore which resources are suitable and what they can do. My blog was done at home because I like to spend time checking things out – an hour per week just wouldn't have allowed me to create what I have - but I can totally understand the frustration and disillusionment of my colleagues confined to that timeframe in the workplace because there were so many things I had to redo a number of times or just give up on and find something else that worked… I guess the technology isn't perfect (yet??).

Due to this programme and the knowledge that's come out of it we are currently looking at the viability of a wiki in the library – we're thinking book club and trialling one internally to see how the 'collaborative' aspects work, but there are so many other possibilities and avenues to explore - so much that could be incorporated - podcasts of author talks, videos of storytimes??

Thanks to Lynette and Leslie for administering the programme and for their encouragement (I'm sure you'll both be looking forward to some blog-free time!!!!)

The only thing left to say is CHEERS…
and congratulations to all those who participated (whether willingly or grudgingly) -I've enjoyed a number of blogs throughout the programme - there are some extremely creative and talented people out there!!! Hopefully those who didn't get a chance this time around will have an opportunity in the future to explore and learn the wonders of Web 2.0 technology.