Howard and Costello are out!!!!!
Rudd and Gillard are in - good to see a woman get there finally, but she is bound by her party's politics - will we notice any change??? Is there much of a difference between Labor and Liberal these days???
I'm sure these magnificent creatures need the answer to be YES!!! This is just a small selection of the amazing animals who stand to become extinct if we don't do something NOW!!!!




and what about this little cutie...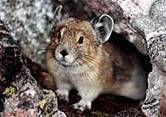 ... the Pika, the first mammal to be endangered by climate change...

and of course there's the birds, the plants... won't the world be a far more barren place to live without this beauty?!?! Would you really want to live in a world like that?!?!